---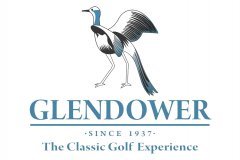 In 1935 ten businessmen joined together, formed a company and purchased the farm "Glendower" with the purpose of creating a Country Club. The farm was 126 morgan in extent with much of it being taken up by plantations of trees. An English golf architect, Mr Charles Hugh Alison was employed to plan the course and a South African professional golfer, A.F.Tomsett, was assigned the task of the construction. It was also planned that the club should have a polo pitch but this was abandoned due to the high cost of leveling the ground.
The club was eventually opened on the 7th March 1937. Such was the standard of the work and layout that after only two years the club played host to its first major tournament, The Transvaal Open Championship. This was won by Mr.A.D."Bobby" Locke in a World Record score of 265 shooting rounds of 66, 69, 66 and 64. In 1946 forty professionals from South Africa and Rhodesia played in a tournament for 100 pounds, the largest purse ever for a South African tournament at the time. In 1973 the club was proclaimed a Nature Reserve. This proclamation was in order to preserve the excellent bird-life that is to be found on the course.
During the 80's the course saw a major face change. All 18 greens were reshaped and rebuilt, new tee positions were added, existing water hazards were cleared and extended and new water features added at a number of holes. The changes have made the club one of the most challenging and beautiful courses in South Africa and at present we are rated the best course in Gauteng and have been rated in the top 10 by Compleat Golfer.

We have also been prestigious host to the South African Open in 1989, 1993, 1997, 2013 and 2015. The club has a wonderful history and with the foresight and efforts of previous and current committees we are prepared to continue our proud heritage into the new millennium.

We are proud to announce that we have hosted the BMW SA OPEN again in January 2018.