---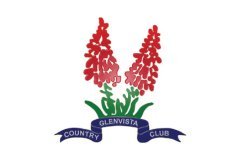 The Glenvista Country Club property is situated in a well-watered valley, through which a small stream flows through the "poort" or gorge, which lies in the Klipriviersberg ridge. The ridge was once formed by ancient lava and is notable today for its conspicuous crystals of feldspar (rock-forming mineral).
The valley and surrounding property was once a farm owned by the Basson family, their family cemetery can still be seen alongside the present eighteenth fairway. The Bassons sold the farm to the Glen Anil Development Corporation, a substantial township developer of the 19060s and early 1970s.
Situated in the valley with gently falling slopes, an unhindered water supply and some rather fierce inclines, the land has always lent itself to being developed into a golf course and Glen Anil took up the challenge.
Sid Brews, a premier South African golfer in his day, and a well known golf- course architect, was commissioned in 1967 to utilise his imagination and expertise. But it was only in 1973, however, that the greens were first opened to members.
The first meeting of these aspirant members took place on what is now the practice putting green and the first committee was nominated there. They set the entrance fee for full membership at R70 and the annual subscription at R1.50, payable in instalments!
Initially, Glen Anil was in total control of the Club but before long memberships had grown to around 200 and these members wanted their say. An enlarged committee was formed to accommodate the members and, boy was their say heard! Glen Anil was quick to note the determination of the members and allowed the Club a large degree of autonomy.