---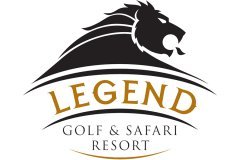 The Legend Golf & Safari Resort Signature Course is a world first.
At the heart of the resort is a championship course designed by eighteen of the world's top golfers. These leading professionals, selected to add their design expertise to the signature course, share the fascination and spirit of golf.
Those who have played the course say it is something very special. Something very special indeed.
The list of signatures who have been honoured to design a hole reads like a who's who of world golf...Trevor Immelman, former US Masters Champion; Padraig Harrington, two-time Open Champion and US PGA champion; Bernard Langer, Colin Montgomerie, Justin Rose, Vijay Singh, Sergio Garcia and Retief Goosen to name but a few.
Dominic Pedler of Golf International magazine is one of the journalists to have visited the site and he wrote: "Most impressive is how the course succeeds in incorporating the various disparate design thoughts into a single cohesive vision."
Each hole has the vision of a great golfer at its heart. And the stunning setting of the Signature Course only adds to its unique nature.
A Par 72, which begins with South African designer Trevor Immelman and ends with South African designer Retief Goosen, the Signature Course boasts amazingly wide fairways and immaculate USGA standard greens.
With game meandering across those lush fairways and the enigmatic Hanglip Mountain overlooking the course, the Legend Golf & Safari Signature Course is making a name for itself as Africa's most exciting new golf development.