About
Pinnacle Point
The Pinnacle Point Golf Course is something truly unique for the discerning golfer. This 18 hole championship golf course was designed by well-known South African golf course
---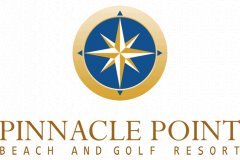 The Pinnacle Point Golf Course is something truly unique for the discerning golfer. This 18 hole championship golf course was designed by well-known South African golf course architect Peter Matkovich who opened the course together with top Irish Tour Golf Professional Darren Clarke in November 2006.
Darren Clarke, who was also involved with many aspects of the Pinnacle Point course design, has said that Pinnacle Point is "... the best golf course on the planet." Pinnacle Point was selected as one of the Top Ten New Golf Courses of the World by the American publication Travel & Leisure in January 2007.
This Clifftop Fynbos Golf Course inspires the golfer to play this challenging layout with a level of respect due to its dramatic views and breathtaking terrain. The 72 par layout is characterised by 7 majestic holes that line the Indian Ocean rock cliffs, four of which are played over ocean and cliff. All 18 holes have been designed to fit the contours of the land.