---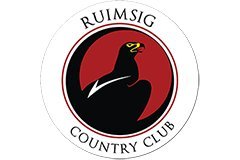 When Roodepoort City Council purchased Ruimsig Farm it was with a vision to create a Country Club with a championship golf course as the central facility serving the leisure needs of Roodepoort/West Rand community.
Construction started in 1984 under the design expertise of Ron Kirby and Gary Player and the handsome result was opened in April 1986, making it one of the youngest South African golf courses which is not an 'estate' course.
For a number of years the old Ruimsig farmhouse was used as the clubhouse until, in 1989, the existing new clubhouse was completed and opened. Incorporating several levels, the structure is both visually striking and extremely functional featuring large verandahs and patio areas, the aesthetic of a modern, rambling farmhouse having been retained. It is sited on the southern edge of the property, with wonderful views to the north over the golf course.
Since it's inception a talking point at Roodepoort has been the greens. These are considerably bigger than what golfers are used to encountering in South Africa, and are distinctive in their subtle featuring. The tricky surfaces have justifiably garnered a reputation for being particularly fast and true, a reputation, which has only been enhanced by the replanting in the spring of 1997 of all 18 greens with Crenshaw Bent grass. In any round at Roodepoort, putting becomes an adventure all on it's own, particularly since the design of the slick surfaces affords pin-positions that can be difficult to get at - which often translates into some interesting approach putts.